BACK FOCUS
The Free Lance-Star Photography Department shares the stories behind the photos.
March 16th, 2009, 4:13 pm
Fun, exciting and frantic.
Covering high school sports state finals can be an exciting time. The games tend to be emotionally charged, to say the least. Seniors are fighting for their last chance at a state title. Parents, siblings and fellow students are in the stands making a lot of noise for their team. So it's quite a bit different than covering a typical mid-season game. Add a tight photo deadline to the mix and the experience changes from exciting to frantic.
Such was the case when the Courtland boys basketball team took on Charlottesville in the Group AA, Division 4 quarterfinals in Richmond. The start time was 9 p.m. and the deadline was 10:45 for my first batch of photos. The paper would be re-plated giving me the chance to send a second batch of pictures by 11:45, but getting the photos in by 10:45 was viewed as the optimal option. I transmitted photos during halftime so there were holder photos for the design desk to work with. If Courtland won, I hoped to get celebration shots to break up the redundancy of action photos. At 10:30 it looked like the game could go into overtime. I wasn't happy about that. My eyes bounced from the game clock to the regular clock and my jaw began to ache from chomping on my gum a bit too hard. With 2.8 seconds left Lamar Giggetts came to the foul line with the game tied.
It was now past 10:30 and I really, really wanted Giggetts to hit the free throw. I did want Courtland to win, but I didn't want an overtime situation. Giggetts hit the free throw and Charlottesville failed to get to the other side of the court before the buzzer. I had a little less than 10 minutes to edit and send photos before deadline, so the adrenalin was pumping. There were two photos I thought were important to the story. Giggetts drawing a foul that helped Courtland make up a three-point deficit in the final minute of the game and the look on the faces of his teammates on the bench as they watched him land the game winning free throw.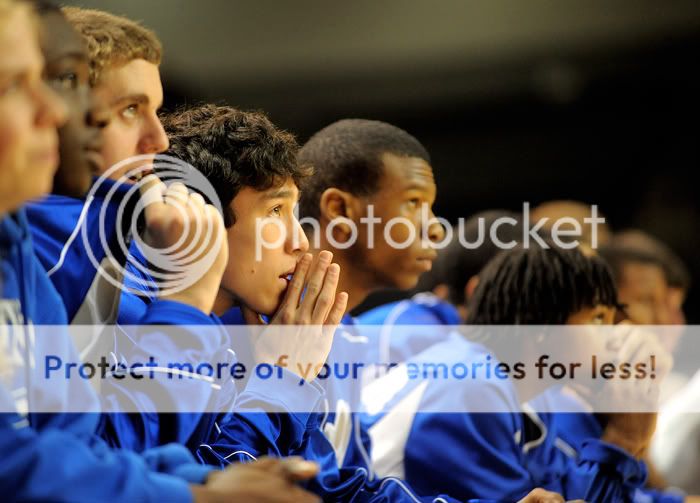 The photos were transmitted on time and all that adrenalin gave way to fatigue. I enjoyed covering the game, but didn't enjoy the drive back home to Woodbridge.
Permalink: http://news.fredericksburg.com/backfocus/2009/03/16/fun-exciting-and-frantic/