BACK FOCUS
The Free Lance-Star Photography Department shares the stories behind the photos.
January 27th, 2009, 7:59 am
Notes on the Inauguration
Despite having worthless credentials for the Mall and no credentailas for the ceremony, I and several FL-S photogs made our way north to DC for Barack Obama's inauguration. We knew going into it that the paper's main photo was going to be from one of the wire services. That gave us pretty much total freedom to shoot whatever we wanted however we wanted.
Arriving a bit after 6 on the VRE, which incidentally was about the only thing that went smoothly so kudos to VRE, I made my way from L'Enfant Plaza to the Mall. Independence Avenue was jammed with people and apparently they weren't allowing people onto the Mall till 7am. I sort of blundered my way onto the through the gardens near the Smithsonian and began to work. The plan was to file pictures either using my laptop or the Nikon transmitter tethered to my camera. As I feared, communication was jammed. So, I managed to get a text off to my editor saying 'nothing is working.' There may or may not have been an adverb – an intensifier based on a four-letter word – attached to the aforementioned message. Let's leave it at I was particularly frustrated at that moment!
Anyway, I made my way down the Mall towards the Lincoln Memorial as I wanted to shoot a panorama and I figured I had hours to kill so I might as well wander. I made for the Memorial, shot my pictures, photographed along the way and realized that 14th street was closed. Even my mighty press credential for the National Mall was denied access. I guess it beats a button as far as souvenirs go…. Anyway, I resigned myself to the situation and meandered my way near the Washington monument. I managed to get caught up in a crush of people – the one scary moment of the day – where I was literally lifted off my feet. Nobody really panicked though or got really angry, thankfully. I eventually extricated myself and found some people gathered by a jumbotron. It looked from my vantage point as if the predicitons of millions on the Mall had come true. The satellite view blew my mind though:
I stayed in that position for the duration of the ceremony, more or less sticking with a handful of people.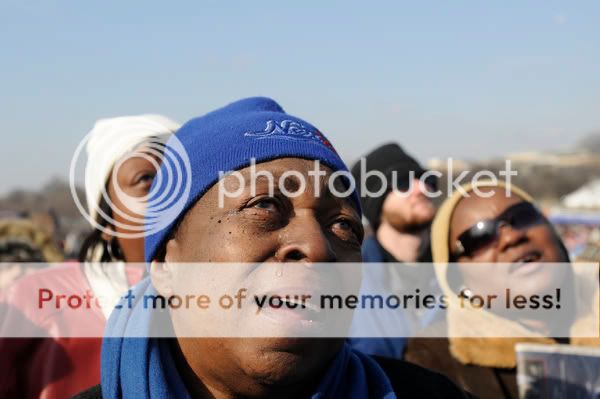 Afterwards, I began to make my way back to the train station, eventually linking up with several other FLS staffers. I'm just glad that we didn't have to deal with the metro:
All in all, it made for a long day. I transmitted a few pictures from the train, got back to the office sometime around 6:30pm and proceeded to work till around midnight on slideshows, editing audio and working on stuff for the website. I got home and apparently fell asleep in front of my laptop! It was exciting to be there and humbling to see so many people so emotional over the moment and Obama himself. -Mike Morones
Permalink: http://news.fredericksburg.com/backfocus/2009/01/27/notes-on-the-inauguration/